Organic Small-Batch Coffee
Work Zone Coffee Co

Premium Roasts
At Work Zone Coffee Company, we combine a passion for building with a commitment to health, safety and sustainability. Our blends are roasted to perfection using only the finest organic beans sourced through direct trade relationships with farmers. By choosing Work Zone Coffee, you can enjoy a delicious cup of coffee while supporting workplace safety programs, fair prices for farmers and sustainable practices in the coffee industry. Our beans are certified organic, ensuring they are grown without harmful pesticides and chemicals. Join us at Work Zone Coffee Company for a unique coffee experience that builds a better world, one cup at a time.

Hazelnut
$15.99
  Savor the warm and nutty flavor of our organic Hazelnut coffee. Made from 100% Arabica beans, this medium roast coffee has a smooth and creamy texture with hints of roasted hazelnuts and a sweet finish. Each cup is expertly crafted to bring out the best flavors and aromas, making it the perfect addition to your morning routine. This coffee is not only delicious, but also responsibly sourced, as it is certified organic and supports fair trade practices. Enjoy a warm and comforting cup of our organic Hazelnut coffee at home or on the go, and treat yourself to a sweet and nutty start to your day!

Breakfast Blend
$15.99
  Savor the rich and full-bodied flavor of our organic Breakfast Blend coffee. This smooth coffee is made from 100% Arabica beans that are grown using sustainable and eco-friendly methods. The beans are carefully selected from small-scale farms and roasted to perfection, creating a bright, well-balanced coffee with floral notes and tangy undertones. Whether you're starting your day or taking a break, this coffee is the perfect pick-me-up. The organic certification and direct trade practices ensure that our coffee is not only delicious, but also responsibly sourced. Enjoy a cup of our organic Breakfast Blend coffee today and taste the difference!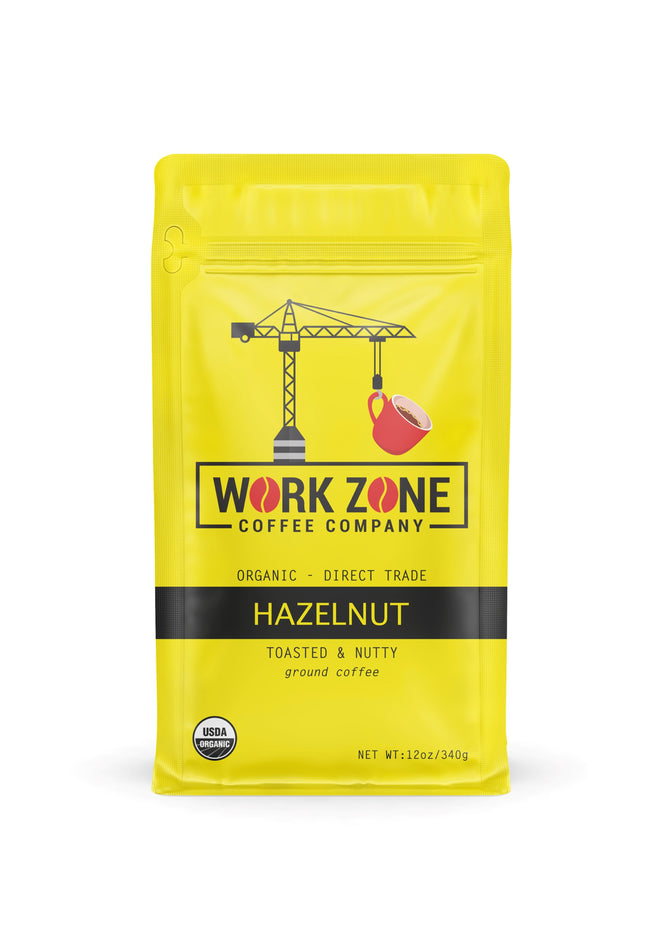 Our Mission
Our mission is to provide great tasting, sustainable coffee while promoting a culture of awareness by supporting workplace safety programs in the industries we serve. We value our strategic partnerships with organizations who we can support to advance safety improvements in the workplace. Stay tuned to the latest updates about our safety collaborations by viewing the latest news below.


20 Oz Tumbler
$29.99
Keep your coffee hot with a Work Zone Coffee Tumbler. Our 20 Oz. tumbler is: Stainless Steel Engraved Design Double Wall Vacuum Insulated Every tumbler comes with a slide-lid that opens and shuts so you can avoid those pesky spills and keep your Work Zone Coffee hot for longer. 

Die Cut Stickers
$2.99
Upgrade your gear today with a set of these high-quality Work Zone Coffee die cut stickers. These are great for putting on your hard hat, lunchbox, cooler or anywhere else you can think of!

Wholesale Coffee Program
Work Zone Coffee Company is proud to offer a wholesale coffee program for coffee shops, restaurants, retailers, and companies looking to provide coffee to their employees. Our wholesale coffee program provides top-quality coffee beans, expert support, and exceptional customer service. We strive to make your wholesale coffee experience as seamless and satisfying as possible. All of our coffee beans are sourced from premier coffee farms globally, carefully roasted, and packaged to ensure optimal freshness. Our wholesale program offers competitive pricing, flexible ordering options, and speedy delivery to accommodate the needs of your business. Whether you're a small business or a large chain, we would love to work with you and help you serve the best coffee to your customers and employees.